ProActive Chiropractic in San Francisco, California announces that Dr. Andrew Cohen was recently honored with an invitation to work at the Olympic Committee Medical Center in Colorado Springs. Dr. Cohen has volunteered to be on call to Olympians for one week as they continue their training.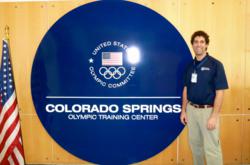 San Francisco, CA (PRWEB) October 26, 2012
ProActive Chiropractic is pleased to announce that its practitioner, Dr. Andrew Cohen, a Certified Chiropractic Sports Practitioner, recently received a special invitation to work at the United States Olympic Committee Medical Center in Colorado Springs. Dr. Cohen will undergo a one week rotation where he will be treating Olympics athletes as they continue their year around training. From October 14-21, 2012, Dr. Cohen will stay as a guest at the training center and be on call.
"Olympic athletes push themselves to the limit when they compete at the games. It isn't uncommon to come back with ailments as the year round training continues," explained Dr. Cohen. "I am honored to have been invited to work with some of the nation's top athletes."
Dr. Cohen is one of the few doctors in San Francisco who has advanced training in treating complicated sports injuries. He is committed to helping athletes of all ability levels reach their goals. For the past five years, Dr. Cohen has volunteered with the Medical/Sports Medical Team for the Susan G. Koman 3-Day Walk as part of a team of physicians, nurses and chiropractors. He has also worked as part of the sports medical team on events such as the Sea Otter Classic, NBA Hoop It Up, and the Avon Walk for Breast Cancer. He believes that team work is the best way to support an athlete. ProActive Chiropractic knows that the Olympic Medical Center extends invitations to providers who are the best of the best and is honored that Dr. Cohen has been selected.
Dr. Cohen integrates chiropractic adjustments, applied kinesiology, orthotics, Kinesiotaping/Rock Taping, blood chemistry analysis, ergonomics, stress management, stretching and exercises to keep patients out of the doctor's office. He combines all of these tools into a holistic treatment plan customized to each patient's unique needs. For compete information about ProActive Chiropractic, visit their website at https://www.proactivesf.com. If you are interested in having your sports event covered, please contact Dr. Andrew C. Cohen at (415) 762-8141.
About the company:
ProActive Chiropractic practices healthcare the old fashioned way. Care is provided by doctors; not a machine, not an assistant, not a technician. Customers spend a minimum of 20 minutes of face-to-face time with Dr. Cohen at every appointment.
Satisfaction Guarantee. If you're unsure that ProActive Chiropractic's unique approach is the right avenue for you, consider their satisfaction guarantee. Their personal pledge assures that their customers are happy with their practice philosophy and approach. If customers are not completely satisfied following their first session, simply tell them at the end of the appointment and they will refund the money in full on the spot. For more information, please visit their website at http://www.ProActiveSF.com.